PurKratom is a company that sells kratom online, keeping in view the busy lifestyle of the Western world. The brand offers a wide range of goodness packs into a capsule to make it easier for customers to enrich their lives.
PurKratom is based in Florida, USA. It has its headquarters in the USA and Germany. Here, I'll go over things like pricing, products, shipping methods, and what people think about the company.
In the end, you'll find the pros and cons of buying from PurKratom, which will hopefully help you decide where to shop.
Can You Choose PurKratom… Or Not?
If you're concerned about whether the company's products are pure and safe to use, I have good news for you.
PurKratom tests all their products for microorganisms, heavy metal, and mitragynine levels to ensure customer safety. Also tested for are 7OH levels to confirm that customers receive unadulterated kratom.
The company is AKA GMP verified. This means they follow good manufacturing practices by the standards laid down by the Amerian Kratom Association. In fact, PurKratom is one of the few brands that officially listed on AKA's website.
All reviews available on the internet speak positively about the company — negative reviews are impossible to find (I couldn't find one negative review!). The company does not maintain a social media presence.
There are no links to social media accounts on the company's website and a quick search on Facebook + Twitter did not yield any results.
Therefore, it isn't easy to judge the authenticity of the company's online reviews but on the surface, things look pretty good.
Importantly, the company seems honest. On its blog, the company does not make false medical claims about its products. The company sells kratom for what it is.
The blog lists the benefits and potential side effects of kratom to ensure that buyers make informed decisions.
However, the FDA does not allow kratom websites to make any medical claims at all, regardless of their accuracy.
Overall, PurKratom products seem to be priced slightly higher compared to other companies. For example, you can get 50 Red Bali Kratom capsules for $17.99 at PurKratom.
TopExtracts sells the same product for $17.5. The prices vary with products but you can expect the rates to be a tad higher than other companies.
However, price should not be the only factor that you keep in mind while deciding where to shop. As already mentioned, customer reviews about the company are excellent and you can definitely expect high-quality products.
What's more, the company offers free shipping. And if you place your order before 3 PM, your product gets shipped the same day.
The company ships its products through USPS and UPS and different shipping categories take different amounts of time to deliver your product. For example, with USPS Express you can expect your product to arrive within 1 day but with USPS First-Class, shipping can take as long as 5 days.
Please note that only products sent through USPS First-Class Mail are included in "free shipping". If you need your products earlier, you'll have to pay for the shipping. Also, PurKratom does not take responsibility for any delays by USPS or UPS.
The company only ships to continental US and Hawaii. If you're outside these regions, you'll have to choose a vendor that ships to your location. Regarding payment, you pay on the company's website through a credit card.
The website is secured by an SSL certificate and your credit card information remains encrypted and safe. And once the purchase is over, your credit card information is discarded from the company's servers.
If you made a wrong purchase or the wrong product was delivered to you, you can claim a refund within 30 days of your purchase.
However, the product you send back should not be opened, and the cost to ship the product back will not be compensated for by the company.
Once PurKratom receives your returned products, it will grant you a full refund (excluding the shipping cost) within 3-5 business days.
Which Strains Does PurKratom Offer?
The company sells kratom in two forms — powder and tablets. Within each category, the company offers red, green, white, yellow, and gold strains as well as a variety pack.
If you're wondering what the gold strain is, don't worry. The golden-brown veins of kratom occur when the leaves are dried more than green, red, and white strains.
The golden strain is very potent and some people have said that it allows them to experience a mild mix of effects.
However, the company's website cautions you to consult your doctor before you take the golden strain.
The variety packs are great for people who are new to kratom or want to try alternative strains. They allow you to choose 3 different strains at a discounted rate and see what works best for you.
Right now, there's a 15% discount on variety packs and I think it's a great opportunity to try different kratom strains.
What Are PurKratom's Best-Selling Products?
Currently, four PurKratom products are trending. These are Red Kapuas, Premium Bali, Green Maeng Da, and White Maeng Da capsules.
The company keeps in view the busy lifestyle of the West and so it packs kratom into capsules. These capsules are easy to take and if you are a busy person, these are what you need.
You can get 50 Red Kapuas capsules for $20.99 and 100 capsules for $37.99. Red Kapuas is a relatively newer strain on the market and it is one the most sought-after strains.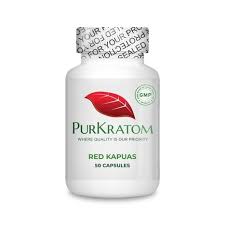 The Premium Bali capsules, which come from the islands of Borneo, are priced at $17.99 for 50 capsules and $32.99 for 100 capsules. Each capsule contains 500 mg of kratom powder. Currently, the product is out-of-stock but will hopefully be available soon.
If you need something for daily use, you should try the Green Maeng Da capsules. Their effects are related to inner feelings and emotions. You can get 50 capsules for $19.99 and 100 capsules for $36.99.
Finally, the White Maeng Da capsules cost the same as Green Maeng Da capsules. This strain is particularly difficult to find and PurKratom is an official supplier. White Maeng Da is especially helpful for pain.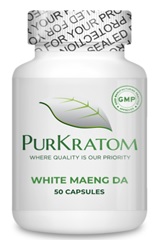 Capsules are a really efficient way to take kratom, be sure to check them out.
Pros
Reviews about PurKratom are excellent and so you can expect the products to be of high quality. The brand is AKA GMP verified, so you don't have to worry about poor manufacturing processes.
Products come in powder and capsule forms — this allows you to tailor how you take kratom according to your lifestyle.
The company offers free and same-day shipping (if you place your order before 3 PM) as well as a 30-day refund period. The company's products are shipped in bubble mailers, which means they reach you safely.
Also, PurKratom offers a wide variety of products, all of which undergo lab testing to ensure their safety and efficacy. The payment method is easy and the website is SSL encrypted, so your credit card information remains safe.
The company has a customer service helpline and it's easy to get in touch with them if you face problems.
Cons
You'll have to pay the shipping fee if you need your product on the same day — with free shipping, it might take 3-5 days for your product to reach you.
The company does not maintain social media presence, so it's difficult to assess how accurate its reviews are. Also, the only payment option you can choose is credit card — if you don't have a credit card or you prefer cash-on-delivery, there's not much you can do.
Finally, the company only ships products to continental US and Hawaii; if you're outside these regions, you'll have to find a different vendor.
Final Thoughts
All in all, PurKratom is definitely not a bad choice when it comes to buying kratom. Although the products are a bit pricey, the company seems to be doing a great job when it comes to maintaining quality.
If you are new to kratom, variety packs are a great place to start — be sure to check them out!
The only real downside seems to be the fact that the company only ships to continental US and Hawaii, but if you really want to try its products, I'm sure you'll find a workaround to this problem.