Losing weight is a perpetual problem faced by millions of women across the globe. The key is to lose weight fast, but in a healthy manner. This can be done by eating food that is low in calories, fat-free yet delicious at the same time. Whilst this might seem unrealistic, we have compiled a list of top ten healthy diet recipes, which will ensure you lose weight rapidly. Before you know it, your waists will shrink, your metabolism will speed up, and you will be able to fit into your favourite pair of jeans.
1. Quick and Easy Cheese and Vegetable Omelet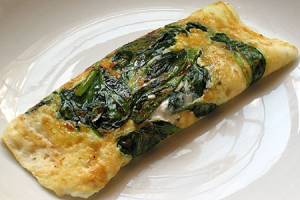 A quick recipe that can be consumed for breakfast, and is stocked with protein and necessary minerals, is an omelet. This recipe is low in calories, high in taste, and takes less than twelve minutes to prepare.
Ingredients
1 cup of chopped vegetables, such as broccoli, mushrooms or green peppers
2 whole range or organic eggs, whisked
2 tablespoons of cottage, feta or goats cheese, shredded
Quarter teaspoon of dried dill
2 slices of wholegrain or whole wheat bread, lightly toasted
1-tablespoon fat-free, organic milk
Salt and pepper to taste
2 to 3 tablespoons of olive oil
Method
Quickly whisk the eggs in a bowl, add the chilled milk, seasonings and dill. Set the egg mixture aside, whilst you sauté the chopped vegetables in olive oil, over medium heat. As soon as the vegetables start sizzling, and are about to change color and texture, pour in the egg mixture. Lower the heat, and allow the omelet to cook over gentle heat, whilst adding the cheese on top. Flip the omelet over, thereby allowing the cheese to melt. Serve on freshly toasted bread, with a glass of your favorite juice or tea.
2. Peanut-Butter Dipped Banana Chunks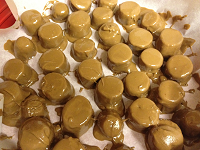 Craving a quick and healthy sweet snack? This nifty treat will satisfy your sweet tooth, whilst staying low on calories.
Ingredients
2 bananas, peeled and slices into one-inch cubes
3 tablespoons fat-free, organic smooth peanut butter
Handful of coconut flakes
6/7 thin wooden sticks
Method
Warm the peanut butter for thirty second, on medium heat, in the microwave. Pierce the banana pieces with the stick, and then pip them into the peanut butter. Set aside for two minutes, allowing the peanut butter to properly coat the banana. Once cooled, toss them in a bowl of coconut flakes and enjoy! This quick snack can be eaten hot or cold, depending your mood!
3. Tangy Hot and Sour Chicken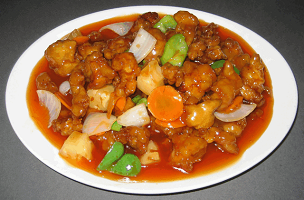 Craving Chinese, but don't want to load up on the extra carbs? Try our hot and spicy recipe, for an authentic taste of China. Not only is it quick, but it can be changed around according to your taste. Serve it to your guests, and wow them with your cooking skills!
Ingredients
2 Chicken breast pieces, skin removed
3 tablespoons sweet chili sauce
3 tablespoons tomato ketchup
1 cup chicken stock
2 tablespoons light soy sauce
1 tablespoon dark soy sauce
2 tablespoons grape vinegar
4 cloves garlic
2 tablespoons organic honey
1 tablespoon ginger
3-4 finely diced green chilies
Half a cup of syrup from a pineapple can
1 can of diced pineapples
2 julienne cut green peppers
 1 packet couscous, or brown rice (as per taste)
3-4 tablespoons olive oil
Method
Slice the chicken into one-inch strips, and set aside to thaw. Meanwhile, sauté the garlic and ginger with olive oil in a wok, under medium heat, unless light golden brown. Add the chicken into this mixture, and quickly stir fry it until the chicken changes in color. Gradually add the green chilies, green pepper and pineapples, along with the chicken stock, pineapple syrup and both soy sauces. Mix rapidly, for two minutes, until the stock starts to simmer. Allow the mixture to slowly cook for another five minutes, and once the stock has considerably reduced, add the ketchup, honey, vinegar and sweet chili sauce. Let this mixture simmer on medium to low heat for 2-3 minutes. Serve with freshly boiled couscous or brown rice.
4. BBQ Chicken Burgers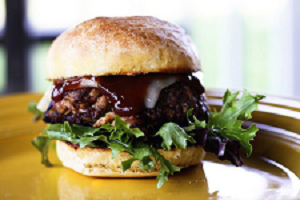 Burgers can be served in an appetizing and healthy manner, if done right. Scroll through our recipe, which is under 250 calories yet is bursting with taste!
Ingredients
1 pound of ground chicken
2 cloves of garlic, chopped
1 teaspoon of ginger, chopped
½ teaspoon of paprika
¼ teaspoon of ground cumin
½ teaspoon of ground black pepper
5 slices of sweet onion, grilled
½ cup barbecue sauce, low-fat
½ teaspoon of kosher salt
1 tablespoon of tomato ketchup
4-5 whole wheat buns, lightly toasted
Method
Gently stir the minced chicken, paprika, garlic, salt, pepper and cumin in a medium bowl. Slowly add the ketchup and barbecue sauce, and form the mixture into four to five 4-inch patties. Lightly season with salt and pepper, and grill over medium-high heat, seven minutes for each side. Serve with grilled sweet onions, and desired condiments and toppings and buns.
5. Whole Wheat Chocolate Cookies
If you love the taste of freshly baked cookies, just like your grandmother made them, then try this healthier alternative. Its packed with low-fat ingredients, that will satisfy your sweet tooth, without adding the extra pounds around your waist!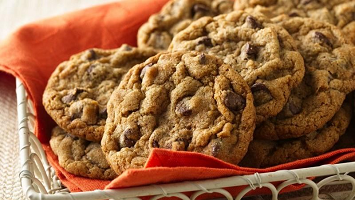 Ingredients
2 and a half cups whole-wheat flour
1 and a half teaspoons baking soda
1 teaspoon baking powder
1 teaspoons kosher salt
1 cup of chilled unsalted margarine or butter, diced into ½ inch cubes
1/3rd cup of dark brown sugar
2 large free range eggs
1 cup white sugar, finely milled
1 and a half teaspoon vanilla extract
7 ounces of dark chocolate, chopped roughly
Method
Line a baking tray with two parchment papers, or baking sheets and preheat the over to 350 degrees Fahrenheit. Sift baking powder, flour, salt and baking soda in a medium bowl. In another large bowl, beat butter and sugar using an electric beater, set on low speed. After two minutes, add eggs gradually until combined. Pour in the vanilla, add flour and blend on low setting for another 30 seconds, until fully combined.
Add in the chocolate pieces, and blend on low setting till mixture is evenly combined. Scrape the edges of the bowl using a plastic spatula. Using your hands, mold the dough into small balls, consisting of 3 tablespoon of mixture. Place these balls 3 inches apart onto the baking tray, and bake for 15 to 20 minutes. Rotate the tray half-way through baking, so that the cookies are evenly brown. Allow them to cool, and enjoy with a cup of cold milk!
6. Spicy Meatballs with Spaghettis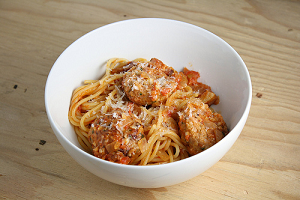 Here's a healthy version of a traditional dish, which is served in many homes. Instead of opting for normal pasta, choose whole wheat brown spaghetti, and stick to low-fat ingredients for a wholesome dish.
Ingredients
1 cup of finely diced onion
Cooking spray
4 minced garlic cloves
¼ teaspoon kosher salt
3 tablespoons tomato puree
1 cup beef stock
1 cup tomato sauce
Pinch of oregano, dried rosemary and dried thyme
1 pack brown spaghetti
½ cup parmesan cheese
Olive oil
Meatballs
2 slices white bread
1 pound ground minced beef, fat removed
½ finely diced onion
1 large egg
2 garlic cloves
2 turkey sausages, minced
¼ teaspoon salt
1 tablespoon ground black pepper
1/3 cup freshly chopped parsley
Method
Heat a wok and coat it with cooking spray. After it is sufficiently warm, add the onion and sauté for 2-3 minutes, until they start to change color. Add garlic cloves and sauté for another minute. Pour in tomato paste and tomato puree, and then allow it to simmer for 2 minutes. Mix in salt and broth, cook for 5 minutes. Stir in tomatoes, cover the wok with a lid and allow it to simmer on low heat for 40 minutes, whilst stirring occasionally.
For the meatballs, preheat a broiler and grind the bread in a food processor. Once the crumbs are made, combine then with the remaining ingredients in a bowl. Wet your hands and shape the mixture into approximately 30 meatballs. Broil the meatballs in the broiler pan for the next 15 minutes, and then add them to the sauce. Allow them to simmer for the next 15 minutes, and then pour in the cheese and herbs. Garnish with parsley, and serve with freshly boiled spaghetti.
7. Thai Chicken Tortillas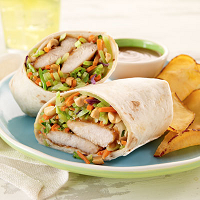 If you're looking for a super healthy and convenient Thai dinner or lunch option, try our tortillas. They can be filled with low-calorie ingredients, and served with fresh salad.
Ingredients
4 tablespoons hot water
2 tablespoons peanut butter
1 teaspoon fresh lemon juice
3 teaspoons chili garlic ketchup
½ teaspoon salt
½ teaspoon black pepper
2 whole wheat flour tortillas, or other low-carb option
1 cup shredded chicken breast, cooked
1 cup green bell pepper, chopped
1 cup sweetcorn
½ cup carrot, shredded
½ cup green onions, chopped
1/3 cup fresh parsley, minced
Method
Combine hot water, chili garlic ketchup, lemon juice, salt and black pepper in a medium bowl, mix till smooth. Evenly spread peanut butter across each side of a tortilla, place 1 cup of shredded chicken, sweet corn, onions, carrots and parsley. Roll up, and serve!
8. Lemon Pasta with Spinach and Chicken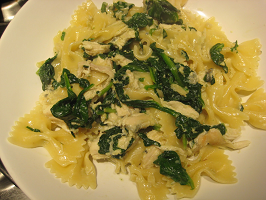 For tangy pasta that is different than your normal dish, try Lemon Pasta with Spinach and Chicken. It has less than 22 grams of sugar and 300 calories.
Ingredients
2 teaspoons salt
½ cup raisins
3 chicken breast halves, skinless
3 finely diced red onions
4 tablespoons olive oil
2 tablespoons lemon rind, grated
2 teaspoons vinegar
Toasted pine nuts
½ teaspoon ground black pepper
10 ounces spinach fettuccine
1 packet baby spinach
Method
Sauté chicken over a large nonstick pan, for 5 minutes on each side, until golden brown. Shift the pieces onto a chopping board, and shred into small pieces.
Mix raisins, onions, lemon rind, salt and ginger in the large pan, stirring slowly over medium heat for 5 minutes. Gradually mix in the pepper and vinegar.
Boil the fettuccine according to the instructions on the package, but do not add salt to the water. Stir in spinach 5 minutes prior to draining. After draining, add the pasta to the large pan, and toss mixture well prior to serving. Garnish with nuts. 
9. Stuffed Capsicums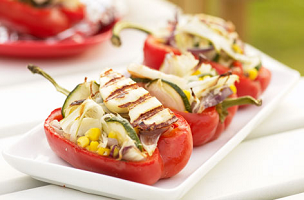 This is an Atkins friendly dish, because it is high in protein and low in fat and carbs. This makes it a perfectly healthy dish to eat, and serve to your guests for dinner.
Ingredients
2 tablespoons olive oil
6 large green capsicums
5 large garlic cloves, diced
5 ounces spinach
1 and a half teaspoon fresh lime juice
1 teaspoon salt
½ cup crumbled goats cheese
2 cups cooked couscous
Method
Remove the stems of the capsicums and bake them in the over for 5 minutes, slowly turning them on each side using tongs. Transfer into a bowl, and allow them to cool.
In a wok, sauté the garlic in oil over medium heat, for one minute. Add spinach and lemon juice, and stir for 2-3 minutes, till spinach starts to wilt. Place this spinach into a bowl, and preheat over to 300 degrees.
In a pot, boil couscous according to the directions on the package. Once cooked, add the couscous and cheese to the spinach mixture. Stuff the capsicum with the spinach and cheese mixture. Place aluminum foil on a baking sheet, and bake the capsicums for 8-10 minutes. Serve at once.
10. Sweet Couscous Dessert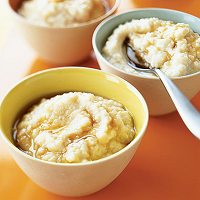 This is the perfect healthy comfort food, for rainy days or when you're simply feeling down and crave nutritious yet healthy food. Couscous is a great alternative to other carbohydrate-rich varieties, such as rice or pasta.
Ingredients
½ cup water
2 and a half cups skimmed milk
½ teaspoon salt
2/3rd cup couscous
2 large eggs
½ cup packed dark brown sugar
3 tablespoons honey
½ teaspoon vanilla extract
Method
Boil couscous in ½ cup salter water, bring to boil, and allow to simmer for 5 minutes. Once drained, allow to cool for 5 minutes. Add in brown sugar and milk, and boil the mixture. Once fully boiling, reduce the heat to low heat, until the consistence of the pudding is somewhat thick. Shift it into a bowl, and whisk in the two eggs. When fully mixed, return back to saucepan and add in vanilla extract. Let this dessert cool for 10-15 minutes, and serve with honey.